24/7 Emergency call-out for blocked or damaged drains
CCTV Surveys of drains to quickly locate any problems
FREE QUOTE for drainage services and repairs
Hertfordshire – Bedfordshire – Essex – North London
Call
Premier Drainage Services
Today
24/7 Emergency call-out for blocked or damaged drains
CCTV Surveys of drains to quickly locate any problems
FREE QUOTE for drainage services and repairs
Hertfordshire – Bedfordshire – Essex – North London
Call
Premier Drainage Services
Today
Premier Drainage Services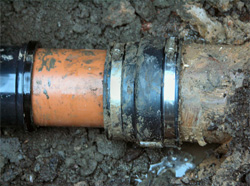 We have all experienced the misery that a damaged drain can cause. It may be nothing more than a minor inconvenience while we wait for the soda crystals to work their magic, or it may be a catastrophic blockage that requires half of your property to be dug up for drain repairs or replacements to be carried out.
If you are lucky, you will end up with a wet and soggy or even a flooded section of your garden when there is a problem with a damaged drain. Unfortunately, many people have sealed drainage systems from their homes and if the drain is damaged or blocked, the only place the foul water or waste can escape is back into the home.
Drains are like our arteries and veins
If you think about it, the drainage system of the average home is much like our own body. The main sewer pipework is akin to the arteries and the smaller pipes that lead to the main system are like our veins. Much like our own arteries and veins becoming clogged and blocked with colesterol, the pipes and drains of a house can become blocked with fat and other debris too. The end result is the same for both, a catastrophic event! A coronary for us and a cracked or broken drain for the property, possibly causing further issues such as damage elsewhere on the land or within the property itself.
Drains and pipes take daily punishment
Drains have to work pretty hard to cope with their day to day job of taking our waste products away from the home and this constant use can result in significant wear and tear. However, daily wear and tear can turn into serious problems or even failure of the drain itself.
If you think about it, when the hob becomes grimy you clean it, the bath is scrubbed when the soap scum line becomes evident and the toilet has a squirt of cleaner poured down to remove hard water stains and give it a fresher smell. How many people worry about the filth that builds up in their drains?
The simple answer to the above question is very few! Until water or sewage start to take longer to drain away, or worse still, flow back into the house, very few people will consider paying any attention to their drains.
As a good deal of the drainage system is hidden from view, you should learn to recognise the signs that something is going wrong with the drains in and around your property. Unfortunately, because we cannot actually see much of our drains and we certainly don't get to see the inside of our pipes, we rarely give them a second thought unless something actually goes wrong.
If you are able to spot the tell tale signs that something is wrong it means you can have it looked at and fixed before it becomes a serious issue that could potentially destroy parts of your home. The longer you wait to have these problems looked at, the more chance there is that they will simply get worse, degrading drains will never get better on the their own!. Leaving the issue will simply make it harder and maybe more expensive to repair further down the line.
The five main common indicators of drain damage
Damp and mould accumulation
Damaged drains and pipes can result in leaks, if this happens to the pipes within your actual home you may start to notice damp and mould building up in certain areas. Some mould spores can cause serious respiratory issues and must be rectified quickly. The moisture can start seeping through the your walls, floors and ceilings, weakening the plaster and even rotting the joists and floorboards over time. As soon as this is noticed, you will need to have it investigated as soon as possible so that it doesn't go on to cause structural damage.
Slow draining water
A slow draining sink bath or basin could mean there is a damaged drains, or at least the pipes that lead to it. Even worse, if the damage is to the main sewer, you could end up with effluent overflowing onto your floor from the toilet. This blockage could be caused by food, grease or fat, or maybe a build up of hair and soap scum from showers or baths, but the blockage could also be caused by underground roots that have compromised the drain, damaging it severely. This will not always require excavation and drain replacement if acted upon swiftly.
Premier Drainage can often carry out no dig drain repairs after clearing the intrusive roots from the drain.
Dark patches appearing on your lawn or damage to patio slabs
Patches of dark grass could indicate that a sewage pipe is broken beneath the lawn. Sewage can act as a fertiliser making the grass grow more than in other drier areas. A lush lawn may seem quite desirable, but leaks from damaged drains and pipes will steadily get worse, causing your lawn to become boggy and smelly too. You may also notice the pointing degrading in your patio slabs, possibly the slabs themselves could start to sink if excess waste water begins to seep up through the ground and heaven forbid if the damaged drain is from the main sewer.
Foundation Cracks
In severe cases where the damaged drains or pipes are located beneath a buildings structural points, it is possible for cracks to appear in the building itself. Concrete floors or plastered walls are often the first parts of the properties structure to fail, but if left unchecked, the repair bill can soon start to spiral upwards, costing an absolute fortune. Although this is the sort of damage one can expect from a leak that has been left for a long time, it is the damage that has happened over this protracted period that can seriously impact the structural integrity of the entire building.
Drain damage gets worse over time
As stated above, drain damage will not go away on its own. A simple blockage may be easily cleared with some soda crystals, boiling water or the dismantling and cleaning of waste pipes. Should the usual methods fail to rectify the problem, there is a better than fair chance that you may well have a damaged drain.
A damaged drain can damage other valuables
Should you have a damaged drain and the waste water or sewage manage to find its way back into your home, think of the potential for serious and expensive damage.
Any damage done to your home will continue to get worse until the damaged drain is fixed or replaced. Many people who notice a small patch of mould in their home think that a quick mop up of any moisture and a spray of anti mould spray will sort the problem out in the short term. Sadly, if the mould is caused by a damaged drain or pipe, the damage to the properties fixtures and fittings will end up becoming a long term problem.
Expensive flooring can be damaged beyond repair, or can at the very least, cost a tidy sum of cash to have it professionally cleaned. Expensive carpets will need more than a quick freshen up with a domestic carpet shampooer and laminate or genuine solid wood floors will expand and start to lift in places as they become waterlogged. Also as mentioned above, the smell and bacteria that can build up can mean that even a professional clean will do little to rectify the issue.
Damaged drains can cost you dearly when selling
It should be noted that if there is a damaged drain that is the responsibility of the homeowner, it must be disclosed to any potential buyer. Let's be perfectly honest, who is likely to sign on the dotted line of a contract if they are made aware of an issue with a damaged drain? Therefore it is vital to have any drain damage rectified as soon as it is noticed. This makes sense for the sake of the integrity of the property, your fixtures, fittings and furniture as well as your health, not to mention should you wish to sell.
So to avoid a costly repair or replacement bill for damaged drains, keep an eye out for the tell tale signs that something is wrong, it could save a lot of time, money and heartache later on.
Need help? Call us today!
If you need a rapid response to your drain problem then call us today on 01438 222 758 or fill in our contact form to get a FREE QUOTE.
We provide drainage services throughout Hertfordshire, Bedfordshire, Essex and London.
If you need a rapid response to your drain problem then call us today on
01438 222 758
or fill in our contact form to get a
We cover Hertfordshire,
Bedfordshire, Essex and London.